20 MW stoomturbogenerator
QNP zijn toonaangevende professionele productie voor industriële Turbomachinery die betrouwbare, hoge kwaliteit en hoge marktaandeel in China.
QNP-generatoren zijn de perfecte oplossing op plaatsen waar snel, betrouwbaar en efficiënt vermogen moet worden opgewekt - of dit nu op een olieplatform, in een industriële installatie, een stoominstallatie of voor hernieuwbare energiebronnen is.
De stoomturbogenerator van QNP kan statische siliciumgestuurde excitatie, tweepolige AC borstelloze excitatie en driepolige AC borstelloze excitatie gebruiken.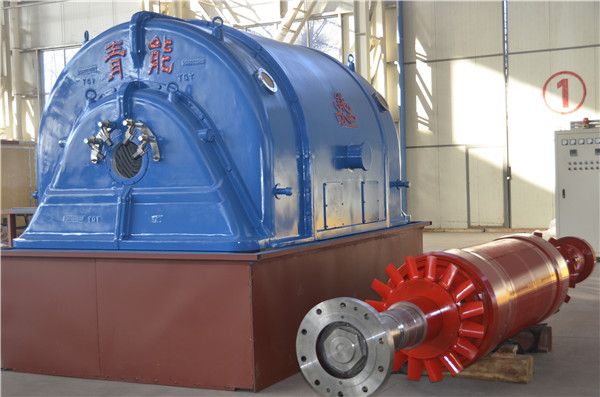 Models:
Voltage(KV)

Frequency(Hz)

Power(MW)




2 poles steam turbine generator

6.3-3.8

50

3-60

6.6-13.8

60




4 poles steam turbine generator

0.4/0.69 6.3/6.6 10.5/11

50

0.5-30

0.4-11

60
QNP is de grootste en leidende particuliere fabrikant van stoomturbines en generatoren in China. QNP, gelegen in Qingzhou, een van de negen oude prefecturen van China, werd opgericht in 1993 en beslaat een oppervlakte van 20 hectare, met een totale oppervlakte van 90.000 vierkante meter.
QNP heeft een eersteklas toegewijd R & D-team bestaande uit PhD's, experts en senior engineers, een uitstekend managementteam met uitgebreide kennis en ervaring, een zeer bekwaam super-elektromechanisch engineeringsteam dat de wetenschappelijke theorie gebruikt om een ​​uitstekende stoomturbine en -generator te creëren en een betrouwbaar, ervaren after-sales serviceteam, die snel reageren op de aantrekkingskracht van onze klanten. Ons geavanceerde kantoorautomatiseringssysteem biedt uitstekend informatiemanagement tot in de kleinste details.
QNP heeft vele onderscheidingen ontvangen, zoals [Recorded National Hihg-tech Enterprises ", [Enterprise Technology Center uit de provincie Shandong", [Shandong High-Efficiency & High Speed ​​Steam Turbine Project Technology Research Center ", en [Qualified Measurement Guarantee Confirmation] Onderneming". Daarnaast heeft QNP certificaten als CE, ISO9000, ISO14001 en OHSAS18001 behaald.
De belangrijkste producten van QNP zijn stoomturbines, generatoren, elektrische regelapparatuur, waterbehandelingsapparatuur en andere relevante producten.
Product Categorie : generatoren